Above: Katie above then below Creation Falls, Myself on Swift Camp Creek Trail
Before leaving Louisville, I had heard about a great campsite at the confluence of Swift Camp and Dog Fork. It was a great site and unfortunately already taken by four guys and a dog. I was a little disappointed but found another established site a little bit up the creek and out of site of our neighbors. After setting up camp we decided to explore a little. Katie loved wading up and down Dog Fork searching for "critters". Afterwards, we enjoyed our freeze-dry meals and some tea as the sun started to set.
It had been a full day so we decided to hang out at our campsite and go trout fishing in the morning. I wish we would have fished that evening because it rained hard all night - we had missed our opportunity. Camping so near to the creek had me waking up about every hour to see if the creek was rising. At about I heard Katie say her tent was leaking through one of the seams. I fashioned an extra rain fly with my poncho that helped her stay dry the rest of the night.
We woke up late, ate a little breakfast, and decided to head back to our car before lunch. We never did get to fish but Katie woke up smiling and joking about her leaky tent. We broke camp at about and retraced our steps on Swift Camp Trail. Katie found a rust colored lizard to amuse herself with and I'm sure he was happy to be placed back on his original path. And then came our E.W.A.C. (Encounter With A Copperhead).
The trail was a little slippery, especially near the rock shelters, so I would blaze ahead and turn around every so often to make sure Katie didn't fall. As we approached one of the numerous rock shelters I was backing down a hill to keep an eye on Katie - almost a big mistake! I walked past a copperhead that made a strike at my boot. Katie saw the whole thing and almost freaked out. I backed off and tried to get him out of the path with my hiking pole. He didn't want to move and Katie certainly wasn't going to walk past him.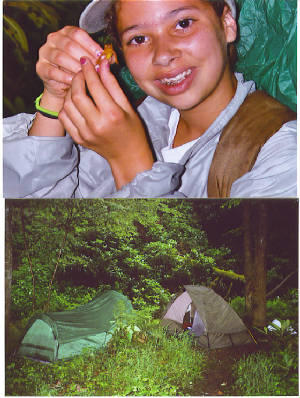 Above: Katie catches an eft and our humble campsite along Dog Fork Creek
I was trying like mad to reach over my head and grab my camera which was stuffed in my backpack. I didn't want to take it off for obvious reasons. He was in the classic strike pose with fangs showing. My hiking pole took more than a few hits until he finally relented and went down the hill. Katie and I decided that she was on her own for the rest of the downhills - I would walk forward and watch the trail.
When we finally reached Wildcat Trail we took our packs off and Katie started to laugh. The forest was still wet and humid from the rain and thus steam was rising off the top of my head and arms. She found this site to be very funny. We shared a snack and talked about how cool the snake encounter was. We reached the car a short time later and headed back to the Ashland station for lunch before showering at the Natural Bridge SRP Whittleton branch campground. In less than two hours we were back in Louisville hanging our wet gear in the back yard.
I looked at Katie and I said "Well?" She replied, "I had fun Dad...thanks." She gave me a hug and I told her how proud I was and how tough she had proven to be. I suggested that she would have a great story to tell when she returned to school in August. I wasn't sure how ready she would be to do it again, but when I mentioned taking two of my nephews backpacking, she asked, "Can I go too?"
Getting lost, rain, snakes, and a great campsite already taken...all in all it was a wonderful weekend adventure. The fact that it was not perfect...made it perfect. My daughter and I have a special memory we share...and a creek runs through it.
Above Clockwise: Katie on the trail after the rain, Katie atop Rock Bridge, and her in a Rhodo patch in full bloom.